Discover the Key to Access Your Soul Purpose So You Can Transform Your Life with Ease
Your soul has a unique mission, and by learning to access your Akashic Record you can uncover that mission and receive clear, tangible guidance for how to fulfill your Soul's Plan.
In this first course, you will learn how to access your own Akashic Record, with Lisa's clear 5 Step Wisdom Prayer System. You learn to use a vibrational key in the form of a sacred prayer, to simply open the door to divine guidance from the library of your soul. Akashic Knowing School of Wisdom is here to help you tap into your highest soul potential, access your divine Akashic Record Keepers and show you how to create the life you desire.
The ability to access the Akashic Record is one of the most powerful tools available on the planet today and the Akashic Masters want you to have it so You so you can transform your life at this important time in history.
By accessing your Akashic Record you will:
Open your heart to receive the support you need to follow your soul's path.
Understand your relationships and how to heal them.
Align to your Soul's Plan to assist you in creating the life your soul intended.
Clear your personal energy field so that you can set healthy boundaries.
Receive tools to learn from and release karma that is keeping you stuck in old patterns.
Update your soul contracts and bring to completion those that no longer serve you.
Raise your energy vibration in order to increase your healing abilities and strengthen your intuition.
Clear money blocks to facilitate the flow of abundance into your life.
Reclaim past lives talents to support you now.
Home Study Course 1 Includes:
6 – 2 hour classes recorded as Video with clear instructions
2 – 2 hour pre recorded mentoring, integration, and Q&A session
44 Page Manual with full directions to access your Akashic Record
Akashic Energy to support you in accessing your Akashic Record:
8 Video's filled with simple steps, clear guidelines
3-Akashic Access Prayers to move into your Akashic Field
7 Healing Prayers to clear and align your energy bodies
Guided meditations and tools for healing and grounding
Plus class exercises so you feel secure with your Akashic information
BONUS 1: 25% Discount on a private Akashic Reading with Lisa
BONUS 2: See Feel and Hear Guidance with Akashic Healing
BONUS 3: Rainbow Shield Meditation
BONUS 4: Grounding the Kite Meditation
BONUS 5: Call Back Your Energy Meditation
BONUS 6: Private Facebook Group
Access Your Infinite Akashic Record Wisdom
All Items in this package are in digital format for immediate download.
In this upgraded Access Your Akashic Record Wisdom course you will be empowered to:
Use 3 Akashic Access Prayers which are the Vibrational Keys to open your personal Akashic Records
Integrate brand new healing tools from the Lords of the Akashic Records
Learn to be grounded and present in your body so you may easily expand into Infinite Wisdom
Ask questions of the Akashic Masters to gain clarity at a crossroad and be able to make accurate decisions for your personal life and business
Open your heart to receive more powerful relationships which support your soul path
Receive Guidance to assist with the next steps for your life daily
Raise your energy vibration, up-leveling your healing abilities and intuition
Learn to run Earth and Cosmic energy to help sustains your physical energy
Practice exercises so you feel secure that your Guidance is coming from the Akashic Record Keepers.
Release yourself from old patterns that are holding you back
Now you can be Divinely Guided every day with ease and grace.
Akashic Record Question Answer Session
In this pre-recorded session you will receive answers to the most commonly asked questions that new students of the Akashic Record have asked over the years of Lisa's career as a Teacher. This session will illuminate the nuances of the Akashic Records, create trust and confidence in your work, and deepen your ability to access Soul wisdom from the Akashic Records. You will also receive energy clearing during the session.
The Akashic Masters, Teachers, and Beings of Light have written this 44page manual for you to be able to learn to access your personal Akashic Record with ease and clarity. Included in the manual are:
Sacred Akashic Prayers to access your personal Akashic Record
7 Healing Prayers to clear Karma and release unwanted energy
Energetic & Physical clearing and anchoring tools
Learn the art of formulating questions to receive life-enhancing answers
Many practice sessions to help you deepen into the Records
Lisa is an extremely gifted instructor and channel. The work done in this class has far-reaching, life changing, and yet gentle effects. Gaining greater clarity and ability to listen to myself has been a tremendous gift. I would recommend this class for absolutely anyone who is open and interested in real change and growth in their own life path.
Cynthia W., San Francisco
SAVE 25%
on a 55-Minute PRIVATE AKASHIC
CONSULTATION and HEALING SESSION
WITH LISA BARNETT
(when you purchase a 55 minute phone consultation. No value if not purchase)
Would you like to say goodbye to your struggle and
trauma in 1 day with an Akashic Consultation?
Finally…a way to get the answers and the transformation
you're looking for without having to wait for months or years!
To create this change, I will access your Akashic Records to see the true nature and core beliefs behind your issues, pain and blocks. Guided by your questions, I channel information from your Masters of your Akashic Record. Information about your Soul's plan and Soul contracts, your life's purpose or how your past lives are affecting this lifetime are all available to us in the Akashic Record. I receive information to help you nurture your soul's development.
See Feel and Hear Guidance with Akashic Healing
Lisa uses the guidance from the Akashic Masters to clears blocks to your sixth sense gifts, on this 45 minute recorded healing call. She uses the guidance from the Akashic Masters to clears blocks to your sixth sense gifts. She opens the channels to your clairaudience, works on calcification in the Pineal to open your clairvoyance and reconnects your clairsentience with your claircognizance to move you into a state of deeper connection with your soul wisdom.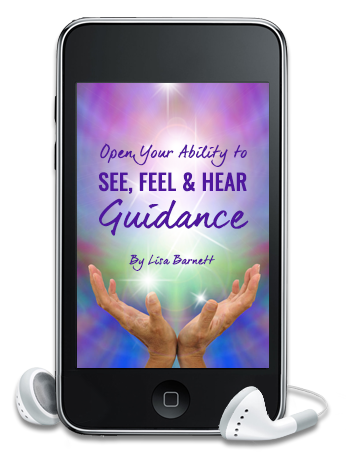 Rainbow Shield Meditation
Do you know which thoughts and feelings are yours and which one come from someone else?
Have you thought that you don't have the best boundaries with people but you don't know how to create them?
It is very surprising to know that for most people 60-90% of their emotions & thoughts aren't even theirs.
By clearing your energy field and filling yourself up with your "personal best" energy, you can claim your own feelings and find your way in life with your true desires, not someone else's.
We add a natural protective rainbow shield so you are clear and safe as you travel in the world every day.
When you complete this guided meditation, you will have a clear energy field, from the inside out and this will allow you to be guided and protected as you take your next steps. Without building walls, you will also be guarded and solid, like a beautiful Golden Egg.Try this meditation everyday for a week and you will see your world change around you as you claim your Souls energy and purpose.
Grounding Your Kite Meditation
Imagine your spirit as a kite flying outside of your body. When it's time to create on this earth plane, most people only come down into their heart chakra and no further. But we need to go deeper, to our solar plexus chakra, and getting there requires being grounded.
After this meditation you will:
Feel grounded and connected to your body
Be present and aware
Gain practical insight and intuition
Do this meditation daily and see how much easier it is to create and manifest new ideas in your life.
Call Back Your Energy Meditation
Do you feel drained and tired? You may be leaving your energy scattered throughout time and space, at work or with friends and family. And while your intentions may be good, by giving away your energy, you're left feeling depleted. By reclaiming your vital energy, you will revitalize yourself and be of even greater service to others.
After this meditation you will:
Feel more whole
Be energized and present in the moment
Manifest more powerfully in the physical dimension
Join Akashic Knowing School of Wisdom
Private Facebook Group.
You will meet other Akashic Record Students and Soul Family in the group. You can ask questions of Lisa and the group everyday to deepen your Akashic work and get ideas and feedback on Akashic processes and exercises to support you.
Access Your Infinite Akashic Record Wisdom
Total package Value $1000
"You will learn to access the Akashic Records in this Course 1".
I want you to feel like you have gotten so much out of this program, that I fully guarantee that you'll be guided and empowered by it.
If you take this course, show up to all the calls, do the assigned exercises and practice the prayer work, and don't feel like you are able to access your Akashic Records – I will be happy to give you a "no questions asked" full refund.
I have found information from the Akashic Records to be profound, unique, and life changing. It can move your growth so much farther than when you deal with things on your own.
Lisa is the perfect teacher of this esoteric knowledge because she is grounded, non-judgmental, can see the viewpoints and needs of people from all walks of life. She also has extensive experience in many healing modalities, has a wealth of experience in reading and healing others and has taught many people this profound work.
I'd highly recommend you take this class to enrich your own life and develop further insights on your spiritual path.
Lucy L., California
I am surprised how easy it is to access the Akashic Records for myself. The information flows easily and helps me to stay in alignment with my higher self and what I receive as my soul's path. It is fun to be in an Akashic Record session because I feel like I am having a conversation with old friends when I speak to my Masters, Teachers and Beings of Light. Thank you Lisa.
C.T., Pennsylvania
Even though I have always considered myself to have engaged in layers of healing in my adult years, nothing has equaled the depth of insight and wisdom of understanding and sense of clearing which some of my Akashic Record sessions have shown me.
So transforming. Thank you.
Marti Denton
I am enjoying the entire experience of learning to access my Akashic Records with Lisa. I am learning so much and the new information and energy coming in is propelling me in new directions. I am learning to accept and  let go of what no longer serves me.
This is the experience I was hoping for and am now receiving.
Thank you so much,
Patricia Luzi, California
After 20 years of exploring everything on the map and being a medical intuitive for a living all those years I couldn't imagine getting much from saying a prayer.
Finally I had a free weekend and the class is so inexpensive that I decided to take it just to be in a room of high vibrational, conscious people. That weekend changed my life.
It turbo charged me by giving a greater expansion of support from the Masters in ways I'd forgotten about.
In addition to that, the other students in the class who had little or no prior experience with Guidance attunement, all were instant accurate intuitives! Lisa was able to answer questions both days that kept raising the vibration. I got connected to a support system that I can now tap into daily. And do. Anybody can give you a piano but not everyone can tune it without some instruction.
Madalyn S, California
Lisa…thank you, You have expanded my Spiritual Journey. I continue to practice as you've taught and I'm beginning to receive profound information in the Akashic Records. It was amazing how easy and effective it was to learn to access the Records on the phone and across the country.
Be Well… and Bless you
Fred, New York, NY
Lisa Barnett is very knowledgeable and was able to answer in ways that made sense all of the questions I asked for class.  I also learned many valuable and easy to use questions to help me in my growth, healing and self-discovery processes in the class.  This in turn made it easier for me to come up with additional questions and topics to research in my Records.
Overall, Lisa's classes are tops. Thank you for all the information and guidance into my Akashic Record.
Dawn, New Jersey
Lisa is bright, cheerful, and deep plus very careful with the students & the material. Very directed & expansive in her focus & questions that spur us on to deeper knowing. She is a clear teacher and the class helped me keep my path of commitment to the Akashic Record and spirituality. The energy & cohesiveness of this class was awesome. I will take more Akashic Classes from Lisa.
D.B., California
Dear Lisa:
I've been having an amazing and life-changing few months, since I took your tele-seminar and learned to access my Akashic Record. I wanted to share a bit of what I'm doing with you.
My Akashic Record Masters & Teachers wanted me to learn how to do healing with sound; tuning forks mainly. I got a book on it for some protocols and they talk me through ways to personalize it for each client.
I also have remembered some of the healing info from past lives in Egypt. It's humbling and an honor to reclaim this past life information and be able to utilize it now.
It is very profound for me to realize all the information that is available for me to access in my own Akashic Record. I am very grateful for this teaching.
Your student,
Paul, Ohio